Multi CH Fayek Pitch Black V Firefly
Kyra is out of our first breeding of "Eragon" (Thriller son) and "Vicki" born 3/1/09. She is Chuck's litter sister. She and her owner handler, Meejin, have accomplished so much together. They have made history by being Fayek's first dog to earn her WAC and later her ROM. She is also Fayek's first agility and dock diving titled dog. We are very proud to have bred such a versatile Doberman!!

Some of her greatest achievements are listed below:
Owner handled AKC Champion, UDC Champion, UKC Grand Champion, Int'l/Nat'l Champion!
2011 UKC Top Ten Best of Breed Winner! Kyra went on to win Top Ten Finals Overall #3!
UKC Premier's 1st Total Dog Guardian Group Winner in 2011! She repeated her win in 2012 and went on to win TD RBIS!
1st UKC GrCH to earn the United Senior Jumper (USJ) title! 2011 Premier UAD Junior Division Winner and 2012 Premier UAD Senior Elite Division 2nd Place!
UKC 2011 #1 Ranked, 2010 #5 Ranked (2010 TT Award of Excellence Winner), 2012 #9 Ranked and current record holder for most Top Ten points in one year!

She is officially known as Am Ch, UDC Ch, UKC GrCh, Int'l/Nat'l Ch, CA, UAGI, URO1, USJCh Fayek Pitch Black V Firefly RA, BN, CA, CGC, MX, MXJ, NF, DJ, RATI, RATN, RL1-AOE, RL2-AOE, VCX, ROM

She also was the 100th Doberman to earn her CHIC number!
Kyra and Meejin are currently working on her MACH!!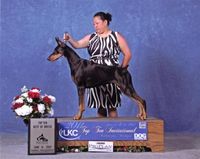 Am/Arg.Grand Ch. Inaqui de Black Shadow

Am/Mex/Brz/Arg Ch Nello's Lex Luthor

Arg/Urg Grand Ch Cindy de Black Shadow

BRZ CH Marienburg's Argus Wind Magic

Arg Ch Cora Mia De Vulcano

Int. Ch Sevenly In God We trust

Briarwood Wild Honey Lesange

Hi-C's Original Cuppie Doll

Am/Arg.Grand Ch. Inaqui de Black Shadow

Am/Mex/Brz/Arg Ch Nello's Lex Luthor

Arg/Urg Grand Ch Cindy de Black Shadow

BRZ CH Marienburg's Argus Wind Magic

Arg Ch Cora Mia De Vulcano

Am/Mex/Brz/Arg Ch Nello's Lex Luthor

CH Aquarius' Princess Of Wales